---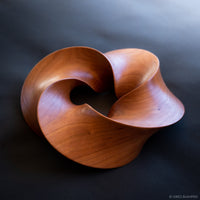 This sculpture is a mobius-like umbilic torus. It only has one face, and is triangular in section. I use my CNC to carve the rough shape, and then hand sand and finish in my woodshop in Denver, CO. Available in cherry, walnut, and ash.

Dimensions: 8"x8"x3"
Made to order, will ship within two weeks of order date.