---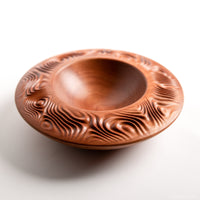 This bowl is robotically carved and hand finished, made from beautiful cherry wood. It features a perlin noise pattern, which is commonly used for the generation of water, mountains, and many more geometric features in 3D design and video game development.
It measures 10" in diameter and 3" tall, with a 5" wide dish that is perfect for keys, jewelry or other small trinkets.

Each bowl is made to order, and will ship within two weeks!